Overview of Services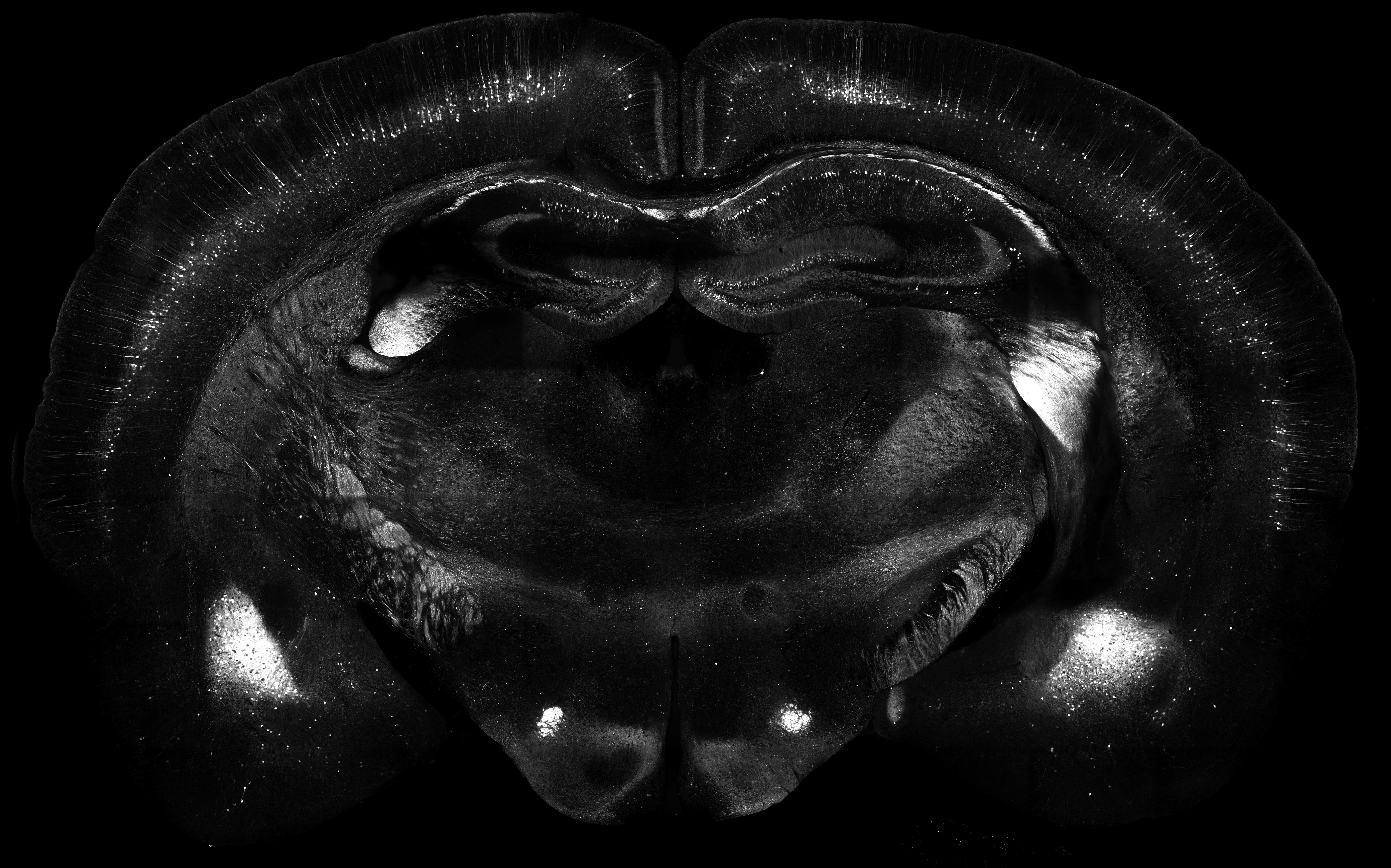 Serial two-photon images of a mouse model expressing YFP in subsets of neurons throughout the brain rendered in three dimensions. The brain was perfusion-fixed by standard methods and embedded in oxidized agarose in preparation for sectioning. The TissueCyte 1000 instrument (TissueVision, Inc.) automatically sectioned the entire volume of the brain at 100µm in the coronal plane and collected a mosaic of image tiles encompassing each section. The resulting images were corrected for uneven illumination and subjected to median filtering to reduce noise using custom MATLAB scripts. FIJI was used to stitch the processed tiles in the X-Y dimensions to create mosaic images of each tissue section. Neurolucida (Microbrightfield Bioscience) was used to render the images in three dimensions. A representative single coronal section (left panel) as well as the three-dimensional rendering of the whole brain (right panel) are shown. Sample credit: Dr. Ann Stowe, UT Southwestern Department of Neurology and Neurotherapeutics.
The Whole Brain Microscopy Facility (WBMF), UT Southwestern Department of Neurology and Neurotherapeutics, was established in 2014 and is supported by the Texas Institute for Brain Injury and Repair (TIBIR). The facility is particularly well-suited to advance the study of traumatic brain injury as well as other neurological and psychiatric disorders by utilizing cutting-edge microscopy strategies to evaluate neuropathology across micro-, meso-, and macro-scales of inquiry. These techniques enable the tracing of neuronal projections from injured sites to their long-range targets, allowing crucial and previously unfeasible studies into the altered connections established by neurons following brain injury.
We provide access to several high-throughput microscopes for UT Southwestern and external researchers. WBMF houses two TissueVision TissueCyte 1000 instruments for the purpose of generating high-resolution, 3D renderings of entire rodent brains as well as two slide scanning microscopes (Hamamatsu Nanozoomer and Zeiss Axioscan.Z1) for the purpose of creating digital images of whole slides. We also offer cryosectioning, general histological staining such as H&E, cresyl violet, or Luxol Fast Blue, and immunostaining.
Leadership
Denise Ramirez, PhD | Director
Location and hours of operation
Hours
Location

Monday - Friday

8am - 5pm

UT Southwestern Medical Center

Dept. of Neurology

5323 Harry Hines Blvd.

Dallas, TX 75390-8813
Links and Resources
Search available services:

View: by category alphabetically
►

TissueCyte Imaging (2)
Name
Description
Price

Mouse brain, coronal sections, 0.875um/px lateral resolution, 10um axial resolution

3D imaging of whole brain on TissueCyte 1000 serial two-photon instrument
60um physical coronal sections collected; 8 optical planes collected per physical section at 10um apart
Per brain or other similarly-sized organ of interest 
includes image processing to produce TIF images of whole coronal sections (~237 physical sections/brain; 1896 optical sections/brain) and basic 3D rendering to produce a lower resolution movie

 

Inquire

rat brain, coronal sections, 0.875um/px resolution, 100um sections

3D imaging of whole brain on TissueCyte 1000 serial two-photon instrument
standard resolution, 100um coronal sections
Per brain or other similarly-sized organ of interest 
Justification of relevance to brain injury research required to receive TIBIR support of imaging fee (50% discount). Non-CNS tissues are billed at full price.
includes image processing to produce TIF images of whole coronal sections (~170 sections/brain) and basic 3D rendering to produce a lower resolution movie

Inquire